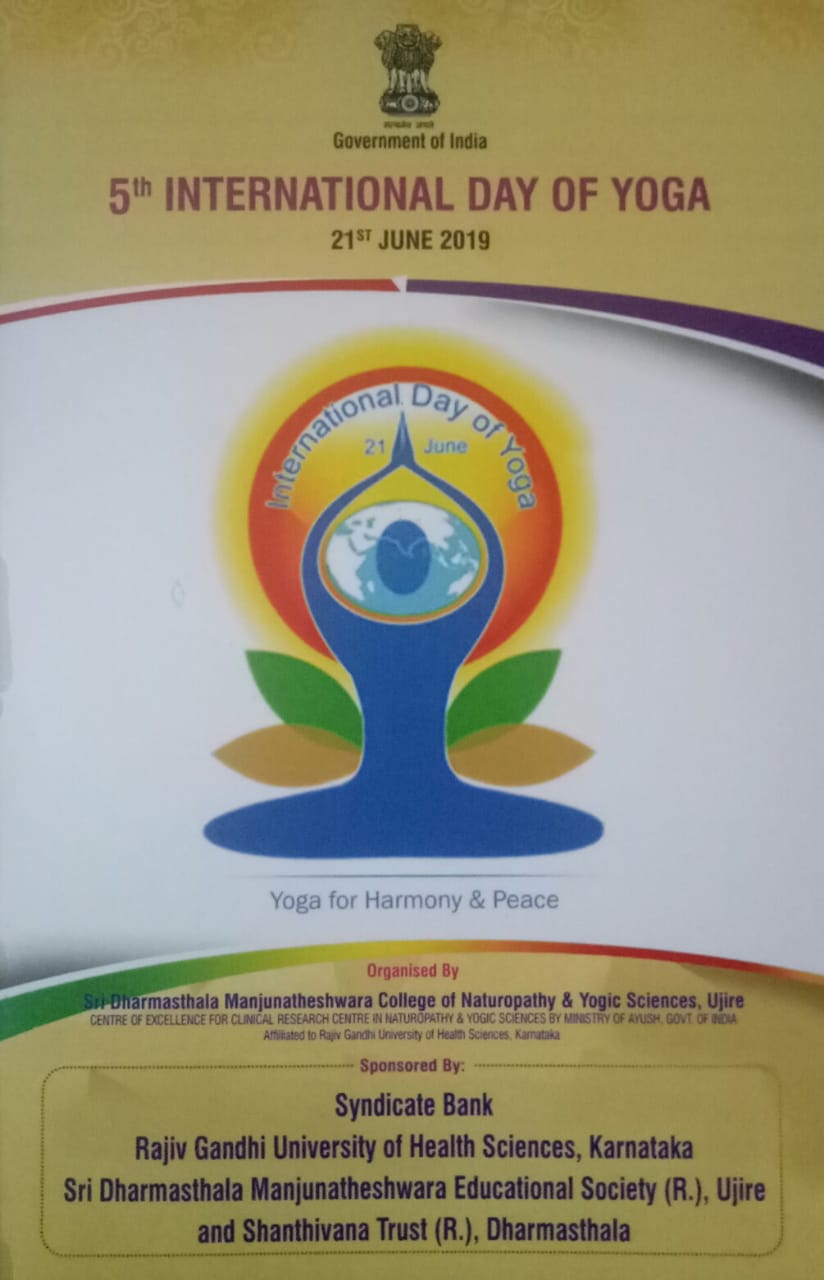 Spectacular view of Yoga Day celebrations at SDM College of Naturopathy & Yogic Sciences
Theme: "Yoga for Heart"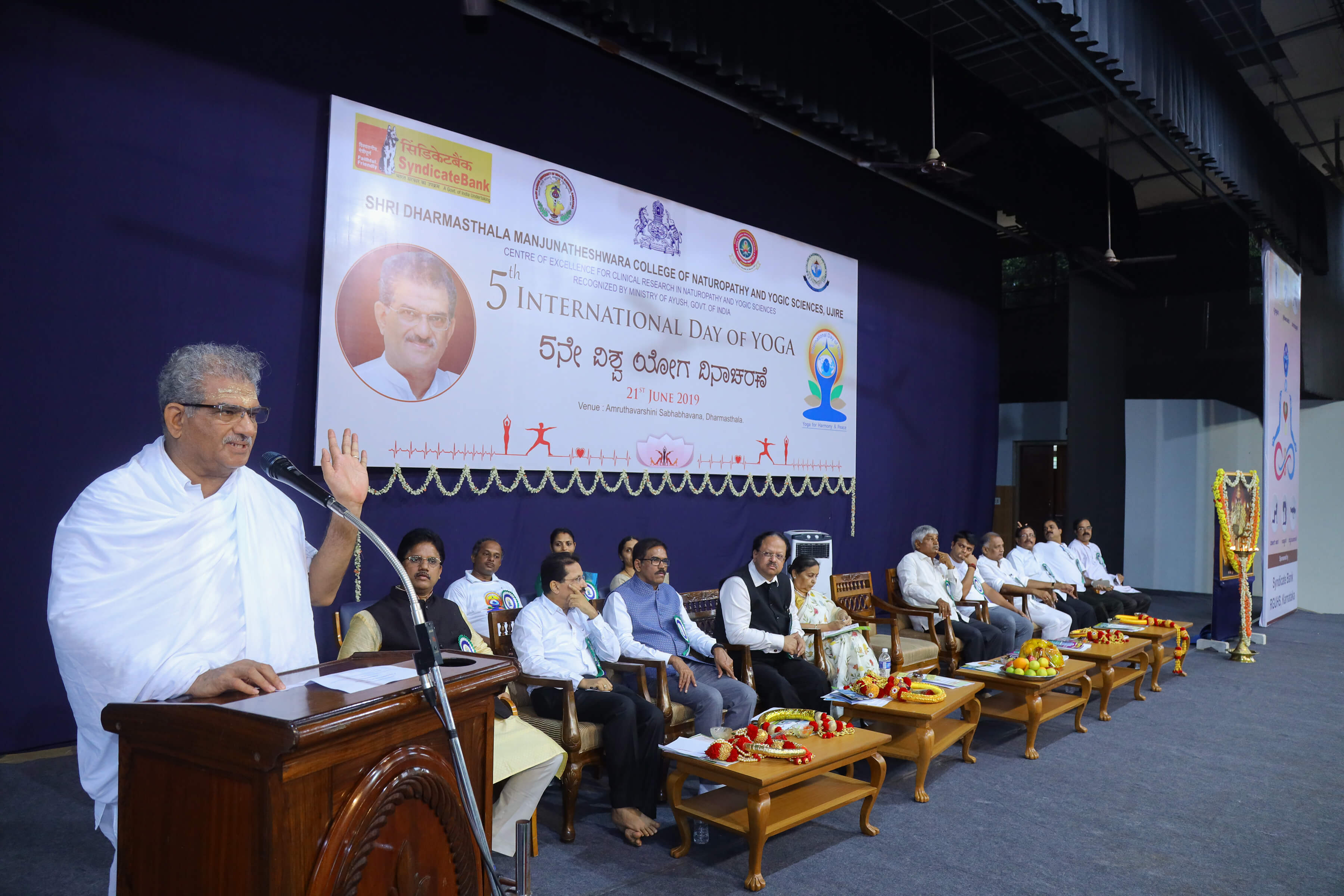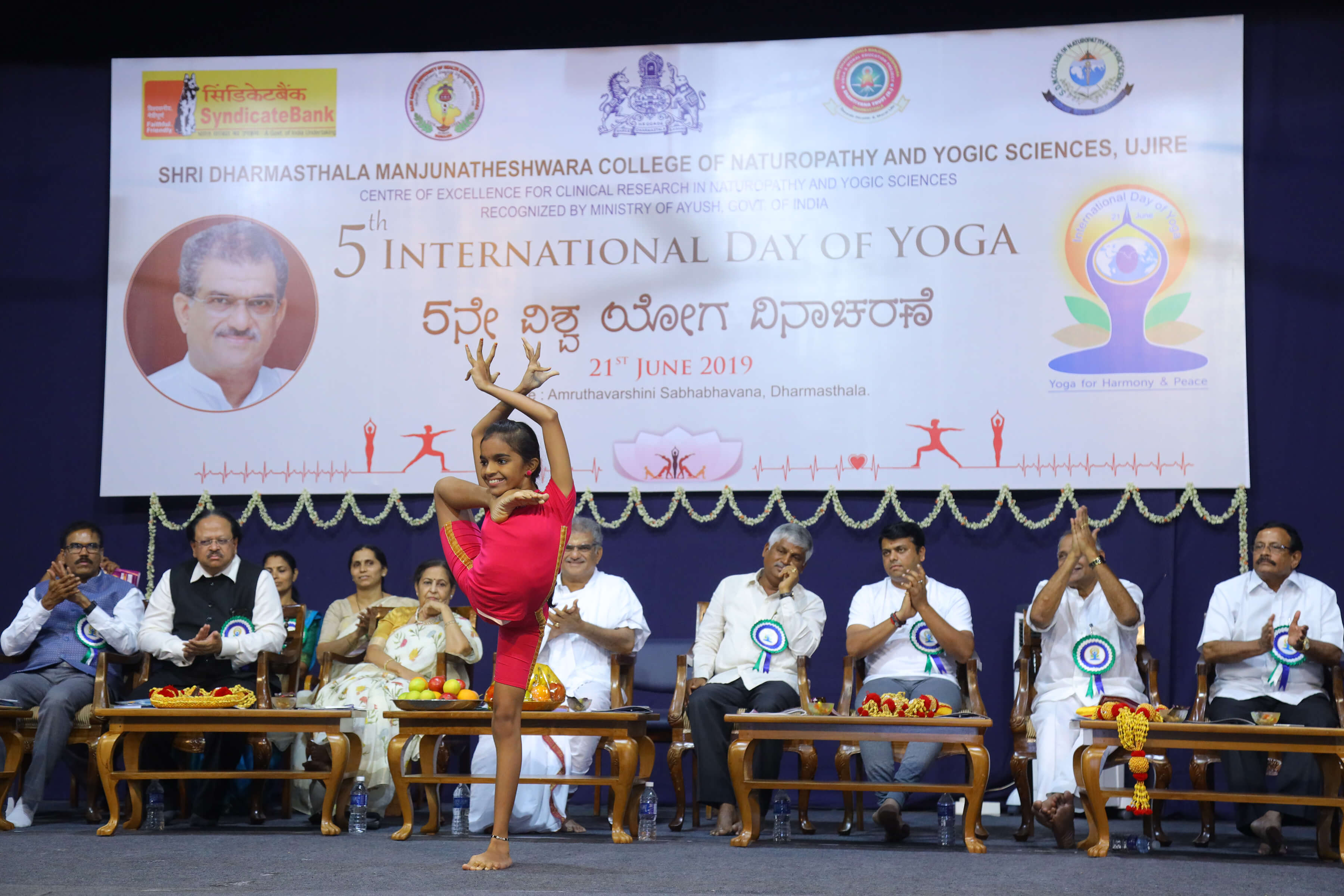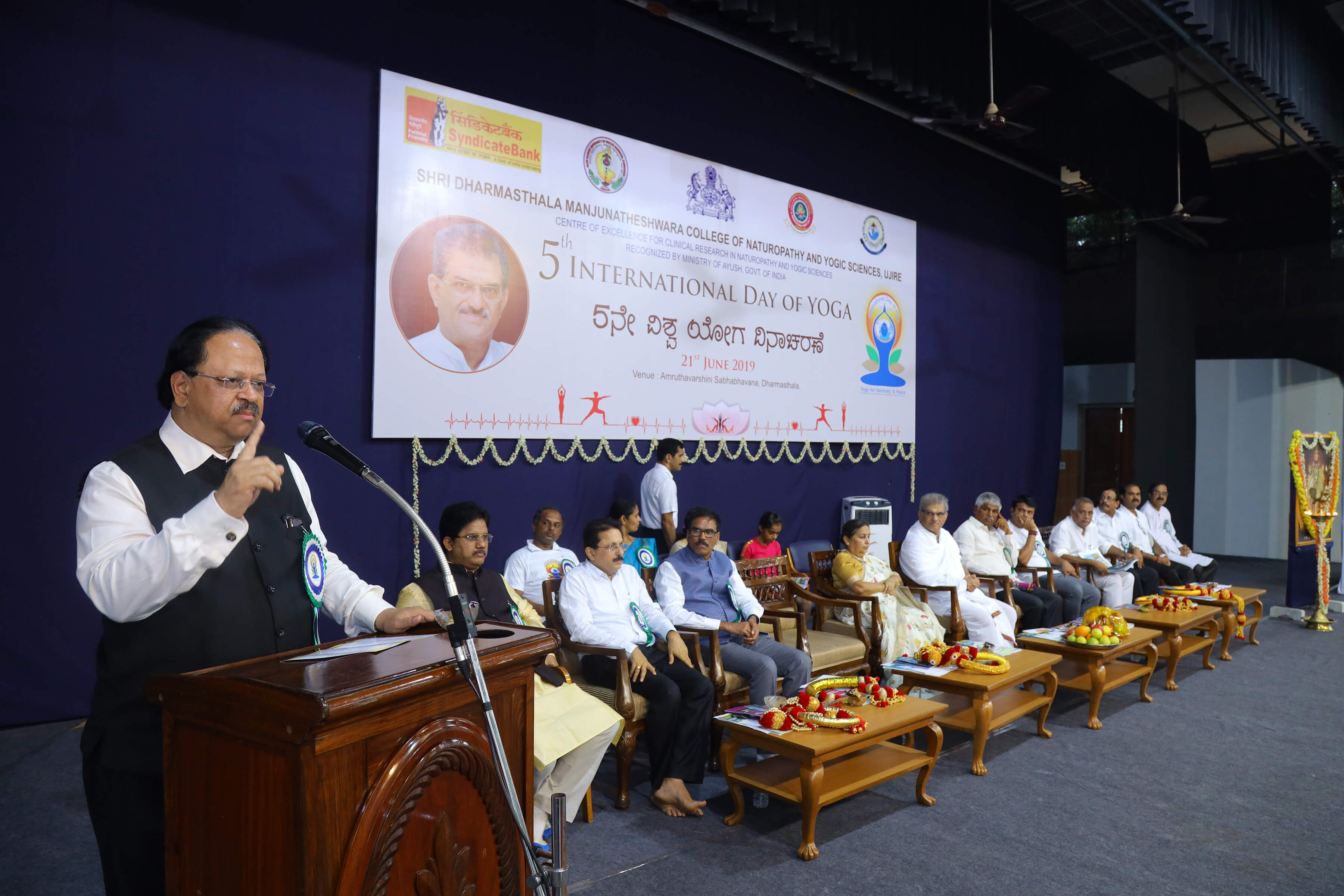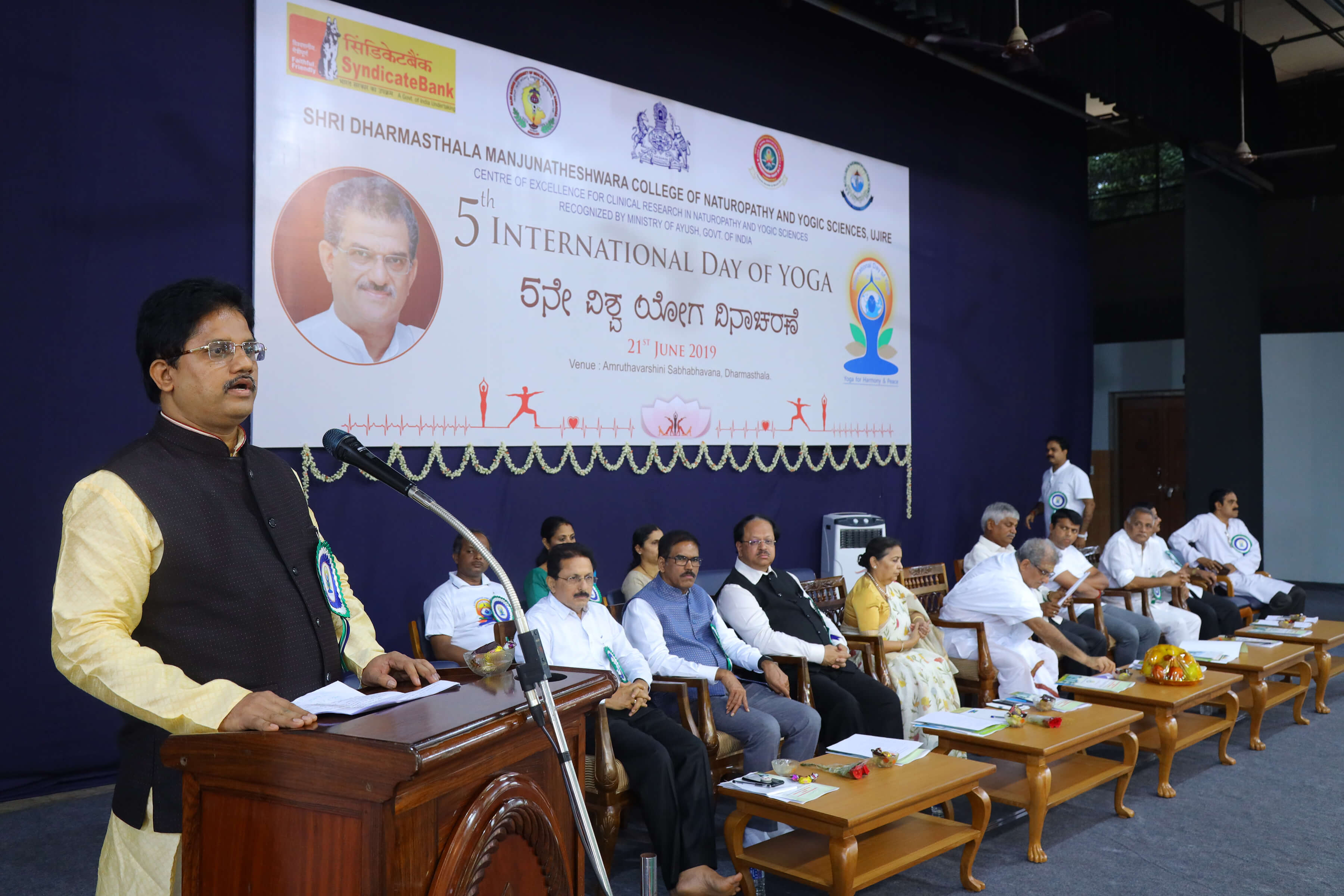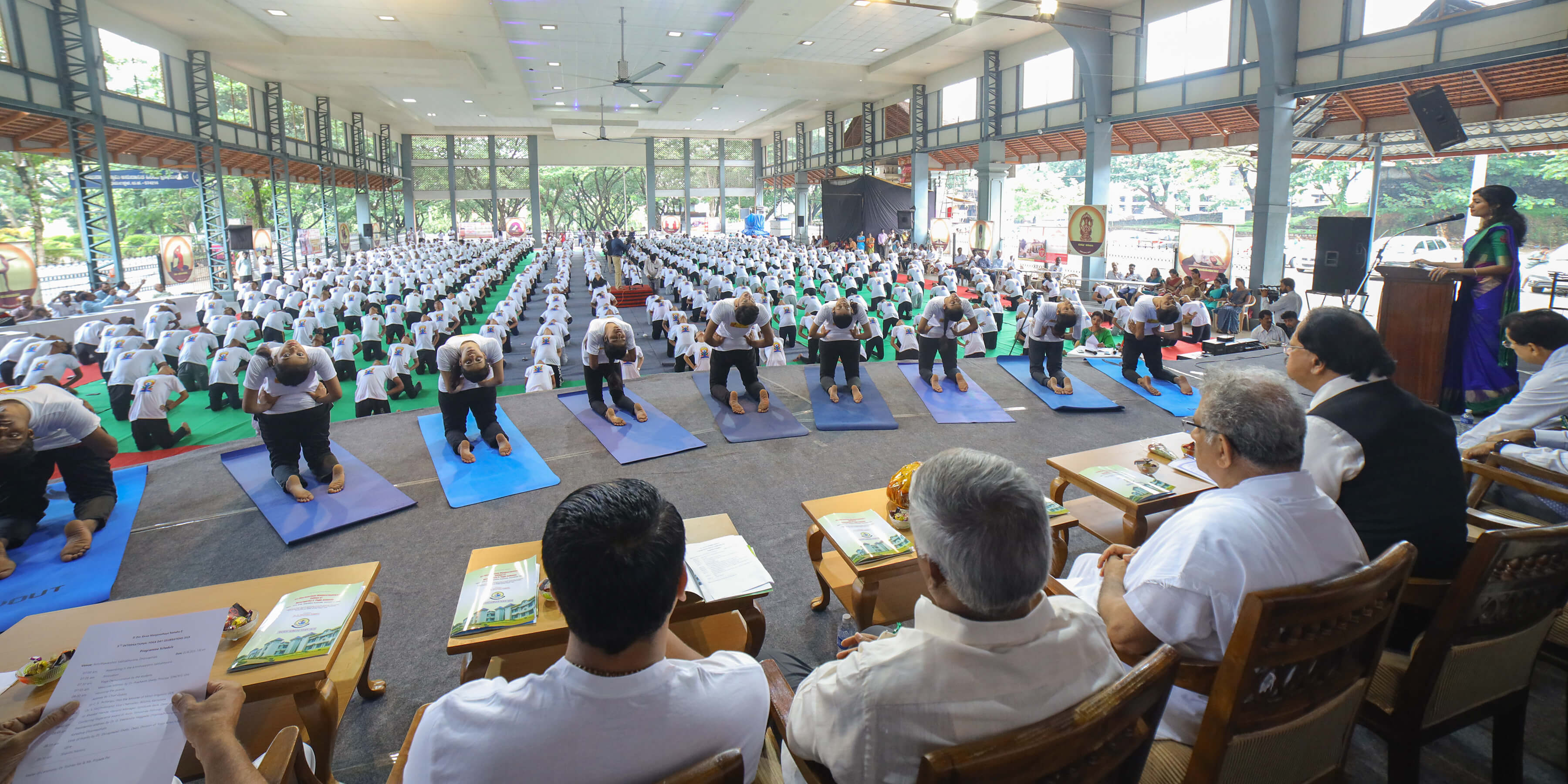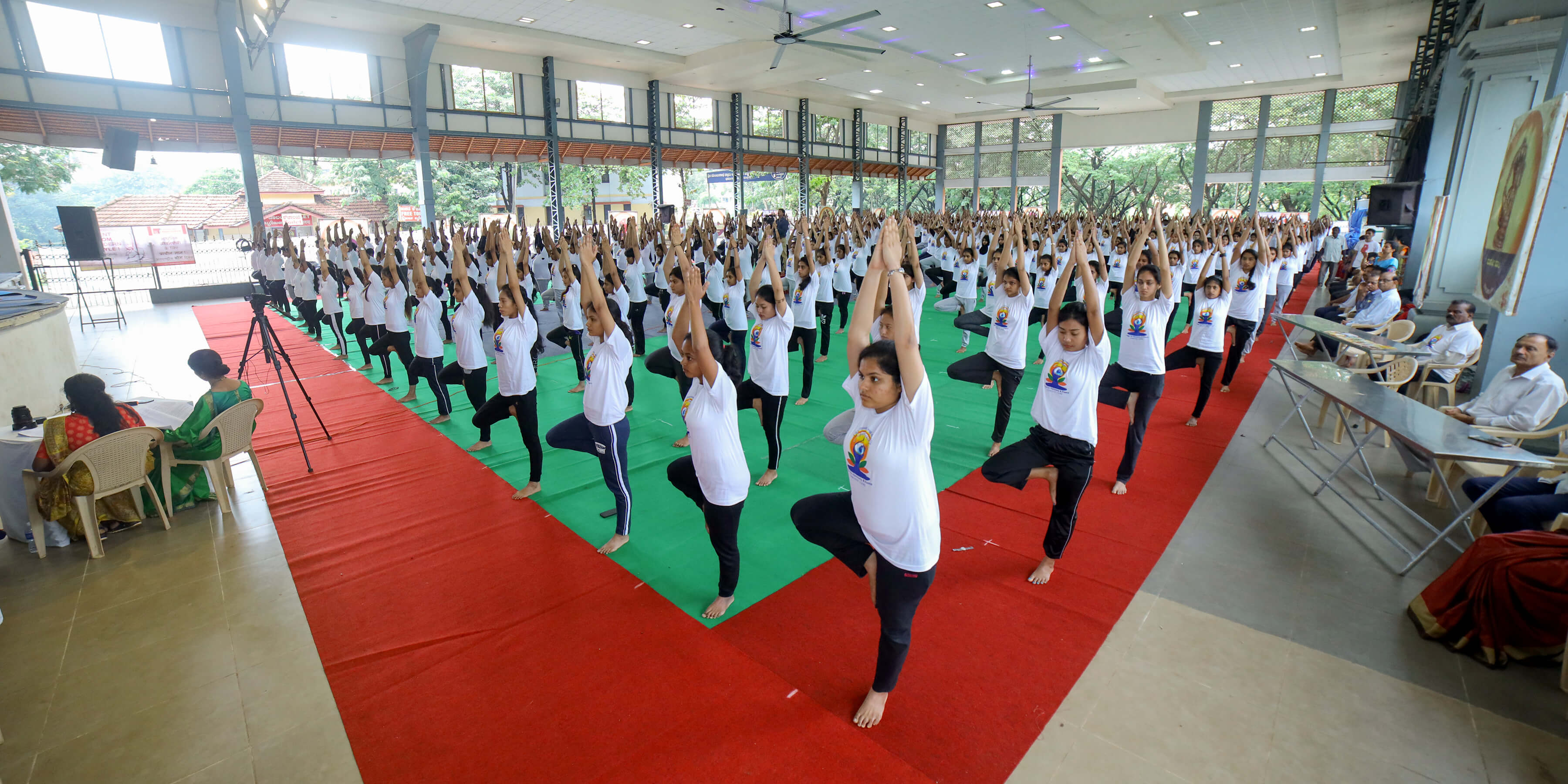 "Health is the form of wealth that multiplies when it is given. Yoga, one of the most ideal means of sustaining health is a gift given to the world by India. This gift makes India the 'Vishwa Guru' without a dispute because there are neither political gains nor any conflicts involved. Yoga only aims at holistic well-being of a person, and the world as a whole," said Dr. D Veerendra Heggade, the Dharmadhikari of Dharmasthala and the Chancellor of Dharwad University. He was addressing the gathering at the 5th International Yoga Day observed at Dharmasthala by the students and faculty of SDMCNYS.
Yoga Day was observed at Dharmasthala as students presented an hour-long mass demonstration of Yoga before the formal event. The event was attended by the Small scale Irrigation Minister CS Puttaraju who said "The modern world and its developments make us prone to a number of diseases. Yoga is the way to tackle that vulnerability."
The Vice Chancellor of Rajiv Gandhi Health Sciences University, Dr. S Sacchidanand stated 
"Yoga isn't only the means of treatment; it is a lifestyle that can facilitate better living. Comprehending the impact of it, over 150 countries around the world observe International Yoga Day today. We must ensure that the indigenous asset is made the best use of."
A special award for an achiever who has accomplished an international recognition in Yoga, 'Yoga Rathna' was awarded at the occasion. Tanushree Pitrodi, the awardee of the year's recognition, awed the audience with a mesmerizing demonstration of her record-breaking Yoga movements.
Dr. D Veerendra Heggade also emphasized at the occasion that the Shantivana Nature Cure hospital provides special importance to healing through Yoga. The institution is also focusing on research and execution of treatment for endosulfan victims in the area, he added.
Maatrushree Hemavathi Heggade, Ministers Harish Poonja and Abhayachandra Jain, Secretary of SDME Society Dr. B Yashovarma, General Manager of Syndicate Bank Bhaskar Hande, and the  Vice Chancellor of Rajiv Gandhi Health Sciences University Dr. B Vasanth Shetty, Principal of SDMCNYS Dr. Prashant Shetty were present at the occasion.
SDM College of Naturopathy and Yogic Sciences, Ujire is organizing 5th International day of yoga at Amruthvarshini Hall on June 21st 2019, 7.00am to 8.30 am
Sponsored by Syndicate bank, Rajiv Gandhi University of Health sciences, Karnataka, SDM Education Society (R). and Shanthivana Trust (R).
Under the Guidance of Dr. Prashanth shetty, Principal, SDMCNYS, Ujire and Dr. Shivaprasad shetty, dean division of yoga & coordinator of the program, SDMCNYS Ujire
Over 1000 participants getting together for the session